Franchisee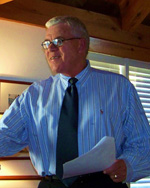 Phone: (978) 697-8444
2701 Main St.
Barnstable, Massachusetts 02630
For more than 30 years John has worked and managed business operations within Fortune 500 companies, private small corporations and individual consulting firms.
After college and his Air Force service tour, John was hired by Mobil Oil Corp., where he worked 16 years developing skills in sales, franchise training, franchise marketing and administration & finance. Thereafter, he was recruited as a turn-around development manager for a privately held mid-sized petroleum distributing company where he implemented strategies to advance a stronger infrastructure and quantify growth through strategic planning and aggressive sales promotions. He returned to the large corporate arena working in marketing as a franchise manager where coached and counseled franchisees in an effort to improve their financial health, mediate the sale & acquisition of franchises and recruit and qualify additional franchisees. Most recently, John launched his own small business consulting firm. His involvement in the business sales & purchase process led him to investigate the Murphy systematic approach to deal making. As John tells it…"It became readily apparent to me that the professional systems, support and national marketing approach exclusively offered by Murphy Business & Financial Corp. provided my clients and me the best opportunity for success; with success being defined as a client whose expectations have been exceeded."
John is an Area Director with Murphy Business & Financial – Massachusetts, supporting Cape Cod and the Islands.