CBI, CMAI, Licensed Real Estate Broker in the State of Iowa
Regional Director/President - Heartland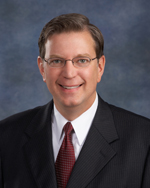 Cell: (319) 270-1511
Phone: (319) 294-1904
101 3rd Ave. SW, Suite 215
Cedar Rapids, Iowa 52404
Brian Brown is Regional Director of Murphy Business & Financial Corporation, Heartland Region, which encompasses the states of Iowa and Nebraska.
As CEO of Murphy Business & Financial of the Heartland Corp., Brian's responsibilities include assisting buyers and sellers through the complex process of business exit planning and implementation. Additionally, as Regional Director, he provides training and support to franchise owners in the Heartland region. Brian is responsible for building a team of highly reputable business professionals that provides clients with value-added services.
As a Certified Business Intermediary, Brian relies on his extensive business brokerage training and corporate experience which includes holding positions of CEO, President, and Board Member. He has twenty-four years of business-to-business experience working with small and medium-sized business owners, executives, and senior managers. A former bank president and CEO, Brian understands the day-to-day and year-to-year challenges of business owners. He is uniquely qualified to advise and assist clients who want to sell, purchase, value, or finance a business. Brian's strong professional relationships are extremely beneficial to business owners, sellers, and buyers. Brian values confidentiality, honesty, professionalism, responsiveness, and the unique needs of each and every client.
Brian was founding CEO of Community Savings Bank, Robins, and Cedar Rapids, IA. Prior to that, he was CEO of Keystone Savings Bank, Marengo, and Keystone, IA and Keystone Community Bancorporation. As a result, he became a respected, dependable, entrepreneurial bank executive who was skilled in starting and building business. He is knowledgeable in managing sales, marketing, investments, and real estate and commercial lending. Brian is accomplished in business development and community involvement. He is a strong strategic thinker with team building, analytical, and decision-making abilities. His background also includes strong ties to agriculture including agri-business, especially grain elevators, commodities marketing, and animal health business.
Brian, a lifetime resident of Iowa, earned a B.S. at Iowa State University with graduate studies at the University of Wisconsin. He is a licensed real estate broker in the state of Iowa. Brian is a member of the International Business Brokers Associate and has been a member of the Midwest Business Brokers and Intermediaries association. He has been active in local and regional organizations including Rotary International, where he served as a club board member and a Big Brother with Big Brothers Big Sisters. Brian serves in his region and community including as Past Chairman of the Iowa Small Business Development Centers advisory board, a Chairman of the Kirkwood Small Business Development Center advisory board and on the board of directors for a Northeast Iowa Community Bank. He resides in the Cedar Rapids area with wife Denise.