Business Intermediary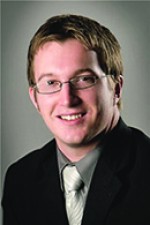 Cell: (701) 793-6356
Phone: (701) 499-3911
4265 45th St. South, Suite 200
Fargo, North Dakota 58104
Dan is a Business Transfer Specialist with 10+ years of experience in Construction, Property Management, and Commercial Real Estate. Dan Hicks is a respected business brokerage professional with unique qualities that set him apart from other brokers. Dan believes his clients deserve expertise, loyalty and plausibility; attributes they see in him and keep them coming back.

Dan learned his work ethic and the importance of integrity from his parents while growing up on the family farm. His brothers and he were put to work when they wanted something. They were taught to earn it and not to expect anything would be handed to them. They were taught when you give someone your word that it was as good as any contract. Dan brings these attributes to his business brokerage practice. He is determined to earn his clients' business and holds true to his word.

Dan started his first business when he was 16 years old as a roofing and sheet rocking subcontractor. Upon moving to Fargo for college, he started Homestead Handyman Service to help pay for his tuition and college living expenses. Since then Dan has started multiple successful business from scratch. These businesses are all still in operation or have been sold for a profit. In addition to owning and operating his own business, Dan also has 8 years of commercial real estate experience, with his focus on investment properties, site selection, sales, and leasing.
Dan currently holds active real estate licenses in North Dakota and Minnesota with Property Resources Group, LLC, a Fargo, ND based licensed commercial real estate brokerage firm. Murphy Business & Financial – ND is a division of Property Resources Group focused on providing their clients with specialized services for business sales and business valuations.

Dan started brokering businesses in 2007 and since has advised, listed, and/or sold dozens of businesses ranging from $50,000 to $5 Million. He has a vast knowledge of business operations from his personal experiences owning and brokering business across a large range of industries.