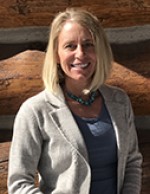 Cell: (307) 690-6016
Phone: (307) 333-3653
3904 Central Avenue, Suite A #657
Cheyenne, Wyoming 82001
Heather is a second generation Wyomingite, native of Jackson. In 1963, her parents started a small river outfitting business, which she ran and grew into the largest of its kind in the Jackson Hole area. After 52 years of operation, she sold the company with 20 plus years at the helm.

Her history of owning, operating and selling a family legacy business offers unique insight and first-hand knowledge that directly benefits her business brokerage clients. Heather has extensive experience working in a highly-regulated industry and understands navigating multiple government agencies, making her a powerful advocate for clients in similar situations.

Named one of the nine best outdoor guides in America by Men's Journal, Heather's love for the Mountain West and its people is unparalleled. In her free time, she continues to ski, mountain bike, hike, climb, mountaineer, run -- anything outdoors.

After studying Sports Science at Colorado State University, she returned to Jackson where she resides today.

Heather is a board member emeritus of the Snake River Fund and an advisory board member of the Teton Wildlife Rehabilitation Center. She holds a Wyoming Real Estate License and is an active land investor.